When the COVID-19 pandemic forced people to alter their regular routines, e-commerce growth became exponential to the point where it established itself as the new retail norm. However, e-commerce has become so mainstream it is effectively a homogeneous shopping experience across platforms, where one experience is a digital clone of the other. The fact is, we have not seen innovation in e-commerce experiences in a long time.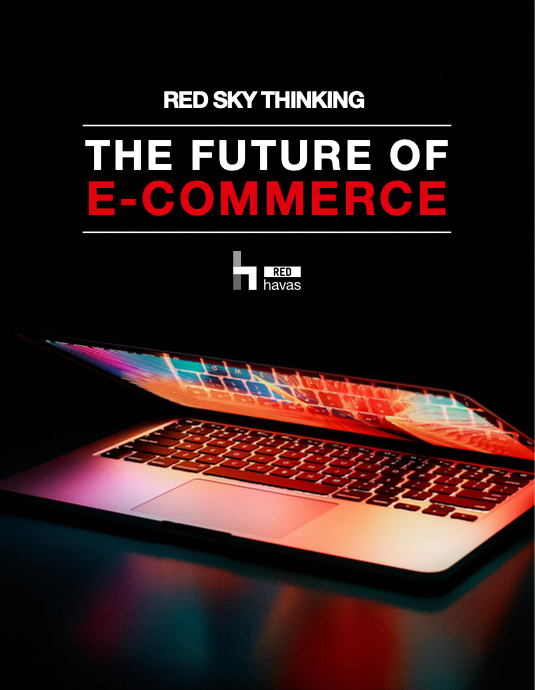 Recognizing that as e-commerce continues to grow and evolve, it risks losing its original luster, Red Havas has published a white paper presenting our views on its future — just in time for this year's Black Friday and Cyber Monday shopping days.
Download "The Future of e-Commerce" white paper now.
These findings are based on a Prosumer report by the same title, the latest in our Red Sky white paper series. More than eight in 10 Prosumers (the leading-edge 15 to 20% of consumers who are first to market, forward thinking, influential and proactive) say they prefer the online shopping experience to traditional forms of purchasing. As things gradually return to normal post COVID, this e-commerce trend is likely to remain the same, especially across categories like clothing, electronic products and devices, and beauty products.
The rub is that while one-third of Prosumers acknowledge the convenience, they claim most of their e-commerce experiences are "really boring" — a feeling particularly prevalent among Gen Z (44% versus 26% of Boomers).
Our white paper looks at how e-commerce can shine again, exploring the new rules of e-commerce, consumers' expectation of purpose beyond clicks, operating on the right side of data privacy, the transition from a place to buy to a place to socialize, and more.